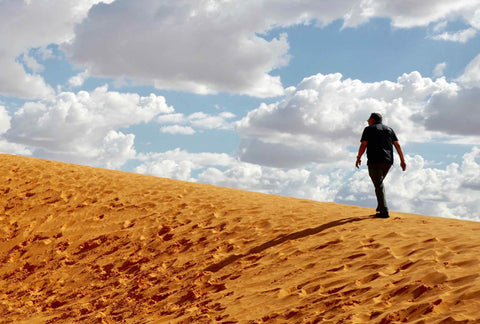 Niger, Africa
Sand hill at suburb of Niamey
Letter from Niamey, Niger Africa
"It feels as though the people of Niger still live in the Old Testament times…" These were the words of Mr. Hwang who have been living here for ten years.I wondered did the waves of modernization stop at the dry hills of Sahara Desert?…Much like a railroad that stopped on its tracks…
3 years ago, it was the first day that the train had been placed on the newly completed railroad. On its first run, the train overturned. Sadly, the train was never put into service after that incident, and now the railroad is covered with weeds.
Niger is one of the poorest nations in the world. According to the United Nations poverty indicator, also known as HDI (Human Development Index), Niger ranks at 187th out 188 nations. 80% of the nation belongs to Sahara Desert and little farming is possible only in the immediate vicinity of the capital city of Niamey. During the dry months, thow whole nation turns into a desolate place (in capable of supporting any farming).
The weather, however, is the main problem of this nation. It is actually the traditions involving marriage and family—namely the early marriage and the practice of polygamy. The consequences are devastating. Girls as young as 13 to 15 are wedded and often ends up dying in child births. 50% of the children suffer from malnourishment. They are further exposed to developmental and learning disabilities.
Moat of houses are hut or mud house where in near Niamey
They looked happy even their hands are empty
Looking at their happy faces, however, I have come to realize that humans become disgruntled only by comparing ourselves to others. These folks who are isolated from the rest of the world seem very happy—having accepted their living conditions.
Surveying the Good Neighbors'Fields
Ahn SeungJin, the field director of Good Neighbors Niger gave us the tour of the field for 3 days. He has been serving here for a year and a half. His experience with Good Neighbors excels for over 23 years.
Under his leadership and expertise, over 2,500 children have been matched with a sponsor. The children receive the benefits of Community Development Program(CDP).
Village Leaders
With Village people
On the first day, we visited 3 villages; 5 on the second day.
The medical clinic was nearly non-functional. Consequently, the children of the villages live untreated. Their conditions range from malnutrition to damaged cornea. "If I were a medical doctor, I could treat these children…"
Malnurished Child
Villages of the Tera Region
There are about twenty villages in the Tera Region which is in close proximity to Niamey. We were welcomed by the Mayor.
Mayor has hosted us
Meeting at under tree
We were lead to a hut which provided a shade. This was done in consideration of our visit. Their normal practice was to meet under a tree.
Good Neighbors made the decision to supply the villages with BinChae Nutrional Powders. 1 container was first committed.
There were outside organizations who came to build clinics, schools, wells, and sanitary structures in addition to providing meals to fill their hunger. Because of their effort, the desert felt more tolerable to us.
Village Leaders
Villages have a leader but the final decision is always made by the Elders. We saw a generous spirit in their faces even though they had to face a lifetime of harsh environment.
Seeing their way of life, we have learned that no circumstances justify complaint or grumbling spirits.
We learned so much from them when our intent was to provide for them.
I am reminded of Ms. Theresa whose words ring true, "We need the poor much more than the poor need us."
The Lord asks us not "How much have you given away?" Rather HE asks, "How much have you left over?"
BinChae will be moving to a shared office space in order to reduce our operational cost. As a result, we are able to feed more people.
Prayer requests :
* That Good Neighbors' work of connecting 2,500 needy children will go flawlessly.
* For Niger Field Director, Ahn SeungJin and the work of Good Neighbors in Niger.
* For the new leadership of BinChae Foundation that they may serve well.
May the Lord's Peace be with you.
September 15th. 2018
John Chae/ Doreen Chae
www.binchae.org