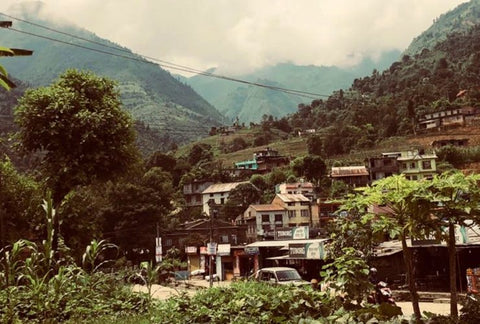 Nepal, Asia
At the airport at Kathmandu, there is no boarding bridge that when it rains, we should walk in the rain. But there seems to have a plan to build a new one soon.
Although Nepal has Himalaya, the downtwn Kathmandu always suffers from the pollution.But once you get out of the city, you are refreshed with good air.
 We had a Nepalese brunch on the way at a small restaurant.
A typical meal here
A child playing with a goat foot
When I first came to this restaurant, I was not accustomed to the food but now I have adjusted to that it was tasty.
While the owner was cutting a goat to cook, his grandchild was playing with a goat foot besides him. The city children who had a room filled with toys would never imagine it.
It was dangerous during the rainy season to drive but after 3 hours we arrived at LitiMahankal School.
A hunger relief organization (their headquarter is in Kathmandu) joins Binchae to run a meal distribution program to the schools in the mountains.
With assistance from Missionary Park Jaemyun who came here 19 years ago, we decided to launch a program to provide for 6 schools with 1,519 children as the 1st one.There are altogether 7,476 children involved here that we are going to expand the program.
LitiManhankal School principal and staff
(about 500 students)
LitiManhankal School principal and staff
(about 500 students)
The children here in the mountainous areas suffer from malnutrition that they needed a balanced meal but now we are thankful that Binchae can relieve that problem.
GBM Hajipurfactory news
Inside the factory, it was so hot that it was like sauna. The machines stopped operating since there is no order but the workers there want to operate them again although it is very hot. We all fervently wish to provide food to the poor with our sweats.
"Not taking care of the poor and widows is not indifference but injustice" – Tim Keller
"Give justice to the weak and the orphan.." Psalm 82:3
Prayer requests :
To provide meals to more children
To build a distribution and ministry center in the village of Ganghar
Hajipurfactory to operate in full so that we may provide meals to 20,00 people daily.