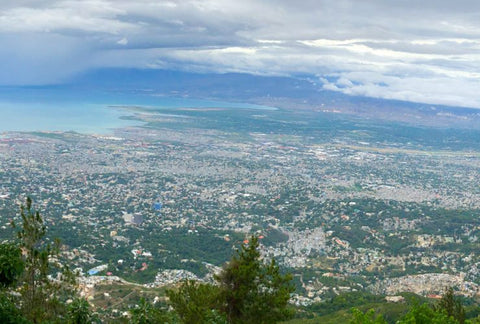 Haiti, South Africa
Letter from Haiti
Jan/13/2018
Haiti ,Port-au-Prince
An Overview of Port-au-Prince
On Jan. 12, 2010, there was an earthquake in Port-au-Prince, the capital city of Haiti, which killed 223,000 people and recorded as the worst disaster on earth.
The whole city turned into slums afterwards.Now there was hardly any signs of the earthquake physically but people's psyche has changed dramatically.
Many people could not overcome the fear of it and suffer from tremendous trauma. The whole country has been destroyed by many NGOs and support materials after the quake.
There were some positive aspects of the aid after the disaster due to the attention they have received as a result of the quake, but too many people have now depended upon them that they are not willing to work. It has become hindrance for them to be independent.
There are two things that can't be found: "gratitude" and "future."
There is no government control for security and too much corruptions swallow the whole society. Those who possess weapons can suddenly become robbers. It has become such an unstable society.
Voodoo, a kind of folk religion, which came from Africa, became the religion of the land since its independence from France in 1804.It has taken hostage of the spirit of the people. Haiti is spiritually destitute.
Voodoo and Catholicism co-exist here
As soon as we arrived at the airport, we visited a health center located in a slum where the nutrition powder we sent back in May.
Missionary Oh Young In (HIM ministry) serves food
It was lunch time that children from the village came to receive food with tickets.BINCHAE and a matching fund began to supply food for the children in May when Rev. Kim Jong Won (YWAM New York) made a suggestion.
With the help of Missionary Lee Dong Ryul who has led HIM Ministry, we were able to get through customs after 5 months of frustration. Now we are providing lunch for 200 children.
"What is going to happen if this supply stops?" I asked.
"Children will go hungry and their parents will become angry."
They survive the whole day with just one meal at 4 pm. Most children suffer from malnutrition that they developed molds on their head and face. Soo Ryun Lee who came from New Jersey on a short term mission trip is applying ointment on them.
I believe that their service will never be in vain and it will be a part of New Creation.
Soo Ryun Lee applying ointment
With Rev. Kim Jong Won and Missionary Oh Young In
A child eating the only meal of the day with a finger
As we unpacked at the Center for HIM, a medical service team arrived.The following day we visited school run by HIM and construction site began by YWAM New York and Cornerstone ministry.
With a team from Baptist Mission Observation Center
40 years ago, American Southern Baptist Convention built a mission center and operated a hospital which have served as a good model for missions.
Our team grew to be 11 people. For appreciation for their work, we treated them with dinner but the food in that Chinese restaurant was too good that I felt guilty afterwards…
"We could have provided for several hundred people a meal with the money…"
It was a short visit but when they asked me how I felt, I replied:
"This is a place that I don't want to come back but precisely for that reason I must come back."
Mother Teresa always said:
"We need poor people more than the poor people need us."
I was able to share because there were people who need my help. I always lacked although I had much; when I see them who are happy without much possession, I became humble and realized that what I have is not "me." More than anything else, knowing God' heart is the great gain as I help.
"A child was crying for shoes but stopped when the child saw a child without a foot."
I pray that we all stop crying but be thankful for what we already have this year.
With thanks for all the support last year,
Binchae Foundation
John & Doreen